The children left Norfolk Lakes at 1.20pm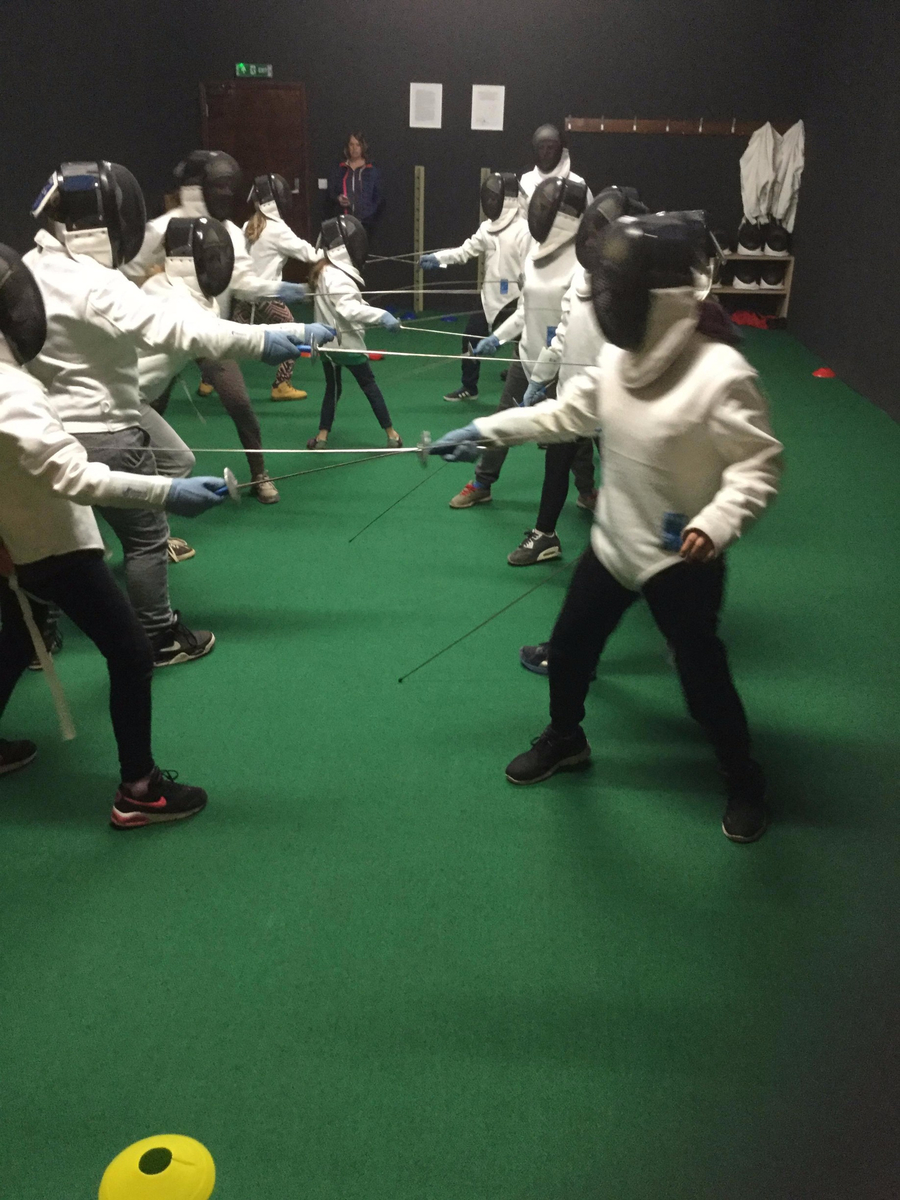 FRIDAY
Awake early this morning for our final morning. Great packing and room cleaning from Mrs F squad, well done girls!
Low ropes: very confident and competent, instructor Dan was most impressed. Dylan was super fast over the spider web.
Today's quote: "I really don't need mobile phones or tablets anymore, it's much more fun playing outside and talking to our friends for real, I've loved it and don't want to go home!" (Ayla)
Last activity is fencing:
After the excitement of putting on the 'plastic bras and nappies' the children were set. Charlie and Mia got off to a good start and were very focussed in their duel.
After lunch we will be heading for home! See you all around 3.30pm
Final thoughts:
It's been a pleasure to spend five days with all the children. They are a great bunch. They have all got involved, been challenged, overcome fears, formed new friendships, got wet on many occasions, provided us with so many laughs and have made for a fun, albeit exhausting, week. Already looking forward to the next one!
THURSDAY
Ms S reporting:
Teachers swapped groups today although all of the children did rifle shooting, archery, survival skills and the blind trail. The sun shone all day which just enhanced this beautiful location. There is a resident heron who has been spied many times today flying across the lake and resting on the bank just outside the fence.
In archery, the only people to hit the bulls-eye today were Mrs Fitz (with the other group) Rogen, and Mia. Rifle shooting was successful and there are many good shots in our school. In particular, Dylan looked like he had done it all before! Everyone was really careful with where they were pointing with the barrel and successfully hit the targets.
We also did the 'blind-trail', which passed with little incident (the children were expert guides) and the children enjoyed leading Ms Sterling through - although some tried to sabotage the trail (Emily Be and Kobe) and filmed the result- they enjoyed that!
Survival skills took place on an island in the lake, accessed by a wooden bridge. The children had to make a den. The girls decided to work together and made a simple and tidy den that had a cleared area, a decorated tree and a toilet area. It came with various cleaning implements. The boys worked imaginatively to build a shelter with four posts and the instructor said that she 'had never seen a shelter like that before'. However, the boys had different ideas about the final outcome and so didn't manage to finish it on this occasion.
The children have finished the day with team games after a visit to the tuck shop. We put a limit on one item after witnessing the binge-fest at the beginning of the week!
We have now cleared up the rooms and found sweets in the carpet, lots of wet bits, wrappers and rubbish but the children have all done their bit and packed up well for tomorrow. Some want another week here: it really has been quite wonderful, as summed up by Mia today: 'I feel so proud of myself, I have jumped in a lake and hit a bullseye'. There are some hidden talents in our Year 5 and 6s, there really are. ☺️
WEDNESDAY
We awoke to sunshine and another hearty breakfast. Mrs F and Mollie's dorm got to sleep much earlier last night and all felt more energetic this morning (although a couple were told that 5am is far too early to get up.
SAILING was our first activity today. The wind was a gentle 12 mph with interesting random gusts of 30mph. This made for a slightly scary first attempt at sailing for some. However, all the group went out in pairs on the boats and quickly discovered (mainly through trail and error) how to steer the boat and get some speed by ensuring the sail filled with wind! Mia and Ayla had a spectacular capsize very early on and had the excitement of being rescued by the safety boat! Well done Ayla for overcoming your fears and re-boarding the boat with Mollie. Kobe and Charlie had no fear at all and went as fast as possible and were most impressed by their 'heeling' skills. They managed to go at high speeds whilst the boat was tilted back on the side. They were overjoyed when they capsized on purpose and flipped the boat upside down!
Lilly was fortunate enough to have Ella in her boat, who was a great captain and taught Lilly well. Mrs F and Mollie had a close shave and almost capsized, the lesson there was not to panic and let go of the rope!
After the break, some children were reluctant to go back in as they were a little scared of how fast the boats went when the wind gusted. However, almost all the group went back in with a third member on the boat and were all glad they did, as second time around they were much more confident. Some were even talking about joining Shotley Sailing Club! The group are currently making their own advert during the filming activity, so I will update you on that later on! Bye for now.
Raft building:
This session provided us with so many laughs. Great girl power from Lily A, Ella, Emily and Ayla had total girl power in building the raft! To begin with, the children did not want to get wet and were not keen, even though they were all wet from the rain! Kobe was brave enough to perform head, shoulders, knees and jump! Charlie, Ella and Kobe followed suit and still no body got wet! On paddling back to the shore, they all decided to slide in which provided us with the entertainment!. All the children were impressed and glad that they all joined in and had fun!
Quote of the day:
The instructor shouted,
'Sausage! You shout..?'the kids answered,
'Bacon!' (He was expecting them to say 'roll' as they rolled the wooden stake in position on the raft!!).
TUESDAY
The girls' dorm was definitely the best choice for the most sleep! Mollie's crew were so quiet and were asleep by 10 ish. Mrs F's group were pretty good as well and some were asleep by 9.30! (Some not!)
Canoeing: Great fun for all. We learnt how to manoeuvre the canoe, work as a team and capsize (some of us on purpose!) Several of us discovered that when you lean over the side to get a ball, you tip out! Great determination from Dylan, Archie, Lilly and Conner who stayed in till the end and won tug of war! Quote of the session: "Holy mackerel, the water's cold!" (Rogen, as he fell out of the canoe!)
Obstacle Course: Wow, so impressed with my whole group. Everyone got involved and overcame their fears of the A frame and M frame, which were very high. So impressed to see all encourage and support each other to achieve. The highlight was definitely the tyre push, renamed as the car crusher by our group!
Paddle Boarding: Mrs F was in her element and loved this. Conner, Lily and Charlie were like acrobats and could even perform a forward roll on the paddle board. Once again, most children discovered the lake was rather cold.
Dinner was much needed as we had packed in so much. Their favourite meal was spaghetti and meat balls.
Rock Climbing: Bouldering horizontally without harnesses followed by a very high vertical climb. Libby could well be spider woman as she was by far the speediest climber!
Dylan has been inspired as he has found his dream job and wants to work here as an instructor!
All packed off to bed and is was pretty quiet by 10pm.
MONDAY
We arrived to heavy rain and our activity was camp craft! We had a race to see which team could pitch their tent the fastest! The sun then came out in time for charades, camp games and hot chocolate. All the children worked well in their teams and helped each other out with missing tent pegs. After camp craft it was time for dinner which we all enjoyed.
Tea was delicious, accommodation is great and lots of excited children enjoying themselves. Next activity before bedtime is Manor Olympics.