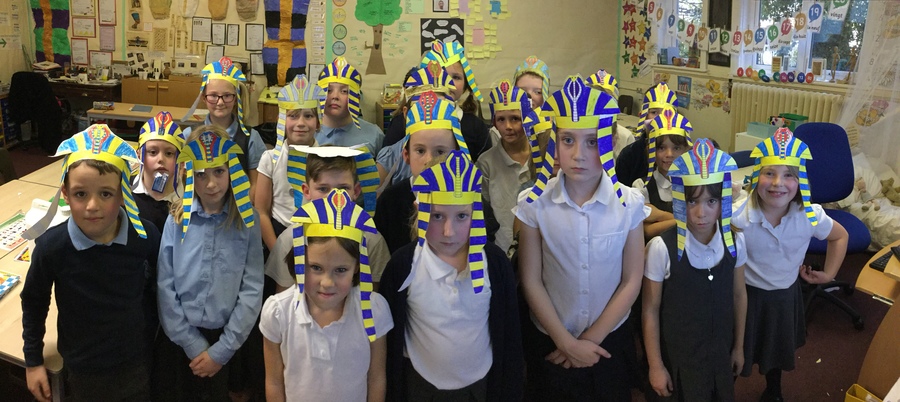 Year 3 have produced some amazing collage work linked to their history topic; I'm so proud of them☺️.
See below...
In English we have been focusing on a short film titled 'The Black Hat'. Today, the children used drama techniques to help feel empathy towards a character. We began by brainstorming the emotions the character may have been experiencing and then represented these feelings with different facial expressions. They then imagined they were the character, and acted out his journey through the wood up to the moment he spotted 'the black hat'. The children really enjoyed this lesson; they acted sensibly and produced some super drama work.
Year 3 have worked really well in pairs to create their Egyptian homes.
The children used a special technique to try and make their oil pastel portraits look like batik. They had fun scrunching up their art work into a tight ball six times, then washing over it with watered down poster paint. The results were highly effective and they were all successful in creating these wonderful Egyptian portraits!
The children worked hard in pairs today to create a sequence that involved at least one jump, one roll, one balance and they had to travel in an interesting way. They focused on their start and finishing positions so that their sequence looked polished.
In Maths we have been learning about the place value of three digit numbers.
We had a fabulous afternoon at the farm! The children learned about the different crops grown, the soil types and had fun looking at the cows, old farm machinery, combine harvester and tractors.
The children had a great time bug hunting in the new revamped environmental garden!
Year 3 used their measuring skills to work out the height of the trees bordering our playing field.
This term we have been designing stage sets for pantomimes. Please find a few of our finished designs below...
We had great fun dissecting an owl pellet today! We were amazed to find two skulls along with many tiny bones and lots of fur from the poor creatures that were eaten! Please see some of the photos below...
We had a fabulous day at West Stow. The children behaved impeccably and were a credit to the school and yourselves. They demonstrated good knowledge and engaged well in all activities. Many particularly enjoyed dressing up and pretending to be Anglo Saxons! Below are some photos of our day...
In Art the children used fluorescent paint to create firework prints in preparation for their Ultra Violet Disco...
The children have been learning about The Anglo Saxons. In D&T they designed and created Anglo Saxon houses. We are looking forward to going to West Stow to see how accurate our designs and constructions were!